Dent Repair - Paintless Dent Repair - Bumper Repair - Door dings - Scratches - Dents - Creases - Paint Touch-up
We are a family owned mobile auto body cosmetic repair business, providing onsite car repairs to the the general public, including body shops, used car dealers, car rental companies. Our service is available in Toronto and the GTA within our service area of Toronto, Mississauga, Brampton, Vaughan, Milton, Oakville, Woodbridge.
Get Your Free Car Dent Damage Repair Estimate
The average person will dent their car at some point in time. It's just a fact of life. That's why we're here to provide you with a free dent damage repair estimate. This service is available online, through our website free of charge. All you have to do is provide us with some basic information about your vehicle and type of dent damage that needs to be repaired.
We have years of experience in the industry and can help get your car looking good as new. So don't wait any longer, contact us today for a free estimate!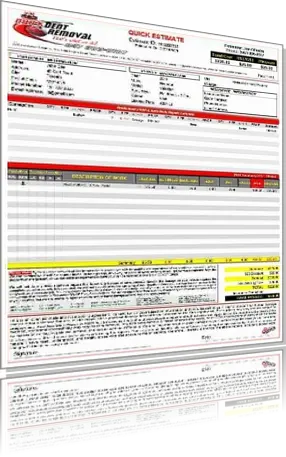 Dent Repair Mobile Service
Dent Repairs At Your Door Step
We Come To You To Repair Your Vehicle
On Your Driveway Or In Your Garage!
Get a
$
25.00
Gift Card
by requesting
WE COME TO YOU TO REPAIR YOUR VEHICLE
Repairs are done on site in your garage, driveway, or place of work. Our mobile dent removal service starts at $100.00. The cost of most repairs average between $150.00 - $250.00.
We operate our business thinking of you, and how we can save you time, money. To show our gratitude we are giving you a $25.00 Gift Card with this free estimate request, after the form has been submitted, you will be taken to a thank you page with the link to download the $25.00
Gift Card
. This coupon is redeemable at any time for any of our services, one per customer only.
"Thank You for your patronage"
Dent Repair Estimate
After arriving at the auto body shop for a dent repair service estimate, some people are often confused as to how the figures are determined. Some of the elements that determine the price of an auto body dent repair estimate would include hidden damage behind the exterior parts.
By itself visible dent damage is very easy to estimate this damage can be seen by anyone with ease. On the other hand hidden damage is a bit more complicated to estimate, it requires a bit more work to complete an estimate. Some of the outer parts by the damaged area have to be removed by the auto body technician or dent tech to expose the damage beyond the exterior panels
.
Please fill the form bellow with as much information as possible in order for us to be more efficient and give you a more accurate dent repair estimate.