SERVICE AREA LOCATIONS
Toronto and GTA Area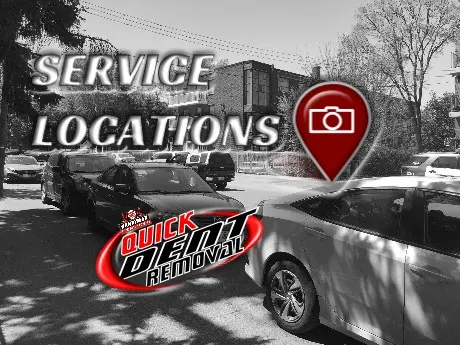 ---
Dent repair, car dent repair, car dent removal, auto dent repair, auto dent removal, these services are common in Toronto, and the GTA. Probably Toronto is the city of all cities, standing tall within the GTA with the CN Tower looking as proud as it was on the last day of completion, ...
Mobile Dent Repair in Old Toronto is the way to go for minor cosmetic auto body fix. Joe the Bodyman offers paintless dent repair, or removal, scratches and scrapes. ...
In Etobicoke Dent Repair is very affordable, nobody beats Joe's Mobile Auto Body dent repair service for the price, quality and workmanship. Joe provides the finest autobody repair services and unsurpassed customer service in the area. Joe the Bodyman specializes in mobile auto body repair and has been professionally by trade repairing body damage for over 40 years and takes the utmost care ...
We are proud to serve this city with our mobile car dent repair shop with services such as paintless dent removal or repair, think of us like a convenient auto body shop on wheels, coming to repair your vehicle at your convenience on your driveway or garage, or even at your work place, or if you choose we can make other arrangements to have your car repaired at a convenient place that suits your needs. ...
No doubt Brampton is a beautiful city and we are proud to service Brampton and to it have included in our GTA service area. Some people in Brampton are very familiar with the quality and outstanding service provided by our mobile paintless dent repair service, with services like paintless dent repair or removal, including minor cosmetic auto body work, scratch removal, ...
We are
Vaughan's Mobile Dent Repair Service
expert, taking immense pride in the quality of our work. We use the latest technology to get the desired results, and treat every vehicle as if it was our own.
If you are looking for a mobile dent repair service, look no further. We are Vaughan's premium provider, and take great pride in the standards of our workmanship and customer service. ...
Milton is one of Joe The Bodyman's favourite towns in the Toronto, GTA area. By being the cheaper alternative to the body shop, With Joe The Bodyman's Mobile Auto Body Services, you don't have to pay high prices for auto body repair services! You don't have to be without your car for days!
In
Oakville Dent Repair
is best when done by Joe's mobile dent repair body shop services, with services like auto dent removal and bumper repair after small accidents or fender benders. Because we are mobile, by coming to your place of work or home to do the repairs. Our automotive repair services are very affordable.
Dent Repair Burlington
- Ask Joe The Bodyman for a free dent repair estimate if your vehicle requires cosmetic auto body repairs.