Dent Removal Toronto - GTA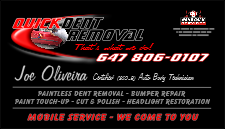 Paintless dent removal refers to a series of procedures used by paintless dent repair business to help remove little dents and dings from the body of a cars and trucks. (PDR) can easily assist auto owners return their vehicles to factory condition after they have gone through a dent damage. The most typical practice used by dent repair companies is the use of steel poles and body picks to push the dents out from the undersurface of the damaged body panel area.
Materials Used For Paintless Dent Repair
---
Additionally, special adhesives such as hot glue or cold glue, are used from the outside of the panel to help remove dents from vehicles. When the majority of the dent has actually been removed, Joe The Bodyman and other experts will certainly use a "tapping" procedure to ravel the edges and return the dent to its normal form. This operation can be done on both light weight aluminum and steel body panels. This procedure requires years of expertise and training. PDR can effortlessly be botched and develop additional troubles than it fixes. If a specialist uses way too much pressure and drives to hard, paint and finishes can easily be ruined and the dent will continue to exist. A high quality technician will have the ability to work on a dent and leave no signs of high spots or scrapes on the automobile.

Other Tools Used For PDR
An additional tool used by dent removal professionals is fluorescent or led lighting. These lights are used to make visible the bottom of the dent by highlighting the shaded darkness produced by a dent, to ensure that the professional will be able to get rid of all of the dent without leaving any kind of high places behind. This is a necessity of the repair process. Without having the ability to see the whole dent carefully, it is nearly inconceivable to return the auto to its original shape.
Dent Removal Specialists
---
PDR is a capability that is gotten with years of practice and encounter. A lot of respectable dent repair specialists have actually invested years experiencing with trials and errors, finding out the very best methods to take out dents appropriately. An unqualified or unskilled professional can easily do additional damages instead of correcting them. This is why it is so essential to guarantee you are hiring the best solutions of a top quality and proficient dent repair business.
Services And Types Of Dent Repair
---
There are a lot of different solutions offered by mobile dent repair specialists. They can come to you anywhere within their service area to perform the repairs on your automobile and quickly begin removing the dent, ding, or crease. They will have the ability to rapidly and effectively eliminate all traces of high areas and wrinkles to ensure that your car or truck looks brand new again. If you have any concerns worrying exactly what sort of services are offered by Joe the bodyman's Mobile Dent Repair service, call us at (647) 806-0107.
Several of the most usual solutions offered by Joe the bodyman's Mobile Dent Repair service are...
Paintless dent repair work
Hail damage repair
Headlamp restoration
Bumper repair
Scratch removal
Paint touch-up
Call Today
If your vehicle has actually gone through any of these complications, call us at (647) 806-0107. We are a local mobile dent repair business that is ready to come and help you. We certainly have the ability to offer you a cost-free quote before we start the job and ensure you will not be shocked by the costs at the end of the procedure. Joe the bodyman is experienced and seasoned technician, and makes sure that you are satisfied with the end result of the procedure.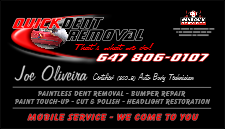 Great information. Thank Joe the bodyman